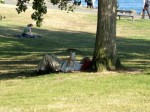 It's looking to be a busy summer for me, but I still have a long list of books I want to read. Here's what's at the top of it.
The Tripods trilogy by the late John Christopher. These were serialized in Boys Life magazine when I was a kid and it took me forever to find a complete set. Now that I have them, I'm tearing through them. They are just as good as I remember them.
The Drowned Cities by Paolo Bacigalupi. This is the sequel to Shipbreaker, which means I need to reread that one first.
Game of Thrones by George R.R. Martin. I have students screaming at me all year to read these books, so this is the summer that it's going to happen.
For some odd reason, I've been craving a lot of old-school science fiction and fantasy, so I will spend some time on Project Gutenberg, looking up the classics. I remember that when I was in high school all of my friends were reading and enjoying the Shannara series by Terry Brooks, which I had somehow missed, so I decided to give it a try. I got to page 100 before I gave it up. It came across as an obvious Tolkien knock-off (and a poorly written one at that), so I let it go. I've been told the writing gets better, but I just don't have that kind of time. There are too many other good books out there.
Support This Site
I don't run ads on this site, so if you found this post useful or enjoyable, please support this site by sharing this post on your favorite social media by using the buttons above. If you would like to contribute to the server costs, you can also contribute via PayPal at paypal.me/kjodle. I appreciate your support.
Except for material released under a Creative Commons license, all material is ©2022 Kenneth John Odle, All Rights Reserved
Permalink for this article:


https://bookblog.kjodle.net/2013/06/10/my-summer-2013-reading-list/