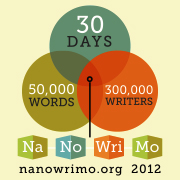 Every November is National Novel Writing Month, an opportunity to write a 50,000 word novel. Sponsored by the Office of Letters and Light, a California-based nonprofit organization which hosts some of the largest literary events in the world, it started in 1999 with 140 participants, and last year had over a quarter million participants in over 60 countries.
You can read the official press release here.
You can also visit the official National Novel Writing Month page, as well as the Office of Letters and Light. They also have a Young Writers Program for kids and teens.
Support This Site
I don't run ads on this site, so if you found this post useful or enjoyable, please support this site by sharing this post on your favorite social media by using the buttons above. If you would like to contribute to the server costs, you can also contribute via PayPal at paypal.me/kjodle. I appreciate your support.
Except for material released under a Creative Commons license, all material is ©2022 Kenneth John Odle, All Rights Reserved
Permalink for this article:


https://bookblog.kjodle.net/2012/10/16/november-is-national-novel-writing-month/