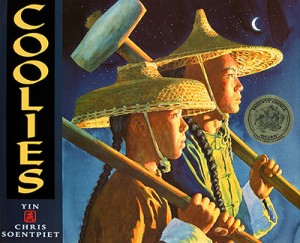 As this book opens in modern times, a young unnamed boy hears the story of his ancestors, Shek and Wong, as they came to the United States from China and worked on the railroads in California, experiencing long hours, hard work, and over racism, while at the same time managing to hold on to their customs, such as Chinese calligraphy.
When the Chinese workers discover that they are being paid less than other workers, they stage a strike, but Shek reminds them that they came to the United States to work and earn money for their families back in China.
Later, during a dangerous trek over treacherous ground, Shek is buried in an avalanche, but through Wong's efforts and determination, he is rescued and nursed back to health. They eventually decide to remain in the United States, settling in San Francisco, and working to bring their family over from China. As the story ends, the young boy understands the importance of remembering his ancestors.
The author, Yin, is Chinese-American, and is married to the illustrator, Chris Soenpiet. You can read a Q&A with Yin here, and see Chris Soenpiet's thoughts about illustrating Coolies here.
Commentary
Both the author and illustrator are insiders to Asian culture, which makes this book an especially valuable one for children. The only mention of the title in the book is that "coolies" refers to "lowly workers," but no mention is made of whether or not it was considered a derogatory term.
Both Shek and Wong, along with the other Chinese workers, wear a hairstyle called a queue, which has a long, difficult history in China.
The story is augmented by the beautiful watercolor paintings of Chris Soenpiet, who excels at capturing detail. Especially in the construction scenes, his paintings are somewhat reminiscent of the work the David Macauley (Castle, Cathedral).
Works Cited
Yin. Coolies. New York: Philomel-Penguin, 2001.
Illustrated by Chris Soenpiet. Includes author's note and bibliography.
Support This Site
I don't run ads on this site, so if you found this post useful or enjoyable, please support this site by sharing this post on your favorite social media by using the buttons above. If you would like to contribute to the server costs, you can also contribute via PayPal at paypal.me/kjodle. I appreciate your support.
Except for material released under a Creative Commons license, all material is ©2022 Kenneth John Odle, All Rights Reserved
Permalink for this article:


https://bookblog.kjodle.net/2010/08/10/coolies-yin/