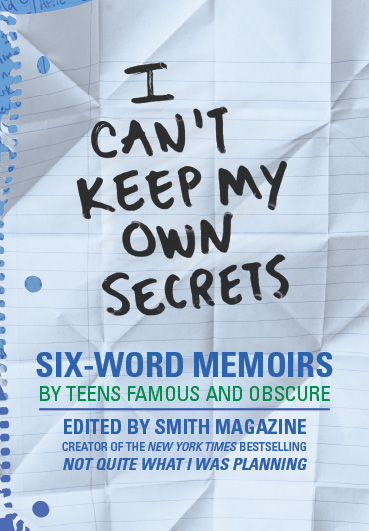 Literary legend has it that someone once challenged Ernest Hemingway to write a novel in six words. His response was "For sale: baby shoes, never worn." I'm not sure if this is true or not: the whole thing sounds a little too neat for me. I'm not a huge fan of Hemingway, so I'm not going to spend a lot of time finding out, either. The veracity of the story is not what's important, anyway. If the story isn't true, it ought to be, because what catches our attention is Hemingway's supposed ability to distill a story into exactly six words, stripping away everything that writers spend years mastering: tone, diction, simile, metaphor, style, and yet being left with six words that are still full of those things.
The online magazine SMITH asked readers for their six-word memoir some time ago, and the result was a book titled Not Quite What I Was Planning. Soon teachers at all levels were using the six-word memoir as exercises in their writing classes, and the results that poured into SMITH resulted in I Can't Keep My Own Secrets: Six-Word Memoirs by Teens Famous and Obscure.
The writers here range in age from thirteen to nineteen, and the anonymity of the project has resulted in some astoundingly open and honest situations, covering a lot of ground as a whole.
Sometimes they talk about mental and physical conditions:
"I found hope in clinical depression."

Jonathan E. (168)

"I giggle to cover all emotions."

Jessica S. (164)

"Asperger's does not define my life."

Mary Ellen M. (79)

"My scars: Everybody stares. Nobody asks."

Bonnie B. (128)
Other times they talk about physical and mental abuse:
"His abuse made me respect myself."

Lindsey E. (101)

"Laughed at abuser's funeral. Feel guilty."

Ashley P. (76)
Or they talk about substance abuse:
"I needed Daddy: he needed meth."

Alison W. (151)

"I love you, please stop drinking."

Kristina R. (26)
Family is always a big topic:
"My parents think it's their fault."

Caleb G. (154)

"We're the family you gossip about."

Steven M. (135)

"Autistic brothers give the best hugs."

Kristen C. (43)
So is identity:
"I live bigger than your labels."

Samantha N. (36)

"Slowly becoming everything that I hate."

Julia D. (71)

"Lost myself for popular kids' approval."

Kimberley G. (95)
Sometimes they talk about getting older:
"I guess this is growing up."

Hannah T. (77)

"You still smell like my childhood."

Sarah R. (26)

"Some hairs grew on my face."

Wade P. (15)
And sometimes they talk about things that are impossible to categorize:
"Chubby, but love to be naked."

Alyssa F. (143)

"I won't need photographs to remember."

Paige M. (107)

"Smoke detectors taught me to cook."

Ivy V. (99)

"Read the thesaurus on the toilet."

Dan R. (97)
This is a great book for reading straight through or for casual browsing, and a worthy addition to your classroom library (if for no other reason than to prove to your students how much you can do with the right six words). It is definitely required reading for anyone seeking insight to the teen mind.
You can buy this book from Amazon, read more SMITH magazine, or submit your own six-word memoir at SMITHTeens.
Work Cited
Fershleiser, Rachel, and Larry Smith, eds. I Can't Keep My Own Secrets: Six-Words Memoirs by Teens Famous & Obscure. New York: HarperTeen-HarperCollins, 2009.
Support This Site
I don't run ads on this site, so if you found this post useful or enjoyable, please support this site by sharing this post on your favorite social media by using the buttons above. If you would like to contribute to the server costs, you can also contribute via PayPal at paypal.me/kjodle. I appreciate your support.
Except for material released under a Creative Commons license, all material is ©2022 Kenneth John Odle, All Rights Reserved
Permalink for this article:


https://bookblog.kjodle.net/2011/05/21/i-cant-keep-my-own-secrets/