The Portage District Library had a book sale yesterday. They have six of them a year, but for some strange reason, I seem able to only get to about half of them. It's always a lot of fun, and you can pick up some great bargains. Most paperbacks are three for a dollar, hardcovers are $1.00 (I think) and there are some specially priced books.
I picked up thirty books for only $12. When you're building up a classroom or home library, these library book sales are a terrific resource. Here's just some of what I got:
Breathing Lessons by Anne Tyler
The Sky Fisherman by Craig Lesley — I've heard some good things about this book, so I'm looking forward to reading it.
Angela's Ashes — Frank McCourt — Can you believe I've never read this one? No excuses now…
Gift from the Sea — Anne Morrow Lindbergh — I had never even heard of this one.
Who Killed Palomino Molero? by Mario Vargas Llosa
Vinegar Hill by A Manette Ansay — Wasn't sure if I had this on the shelf at home or not. Turns out I now have two copies on the shelf.
Fried Green Tomatoes at the Whistle Stop Cafe by Fannie Flagg — I will probably pass this on to my mom, since she liked the movie version so much.
Snow Falling on Cedars — by David Guterson
Working by Studs Terkel — Remember all the controversy over this back in the Pittsburgh school system? And I got a like-new copy for 33 cents!
Cold Sassy Tree by Olive Ann Burns — Because I like Southern writers
Where the Heart Is by Billie Letts — I read this years ago when a friend lent it to me, and really liked it. Now I have a copy I can lend to people.
The Book of Ruth by Jane Hamilton
The Best American Poetry 1999, edited by Robert Bly — because you can never have enough poetry.
The Best American Poetry 2001, edited by Robert Hass — no, you really can't.
Kensuke's Kingdom by Michael Morpurgo — I read this and liked it (see my review) and now my students can read it too.
Holes by Louis Sachar — So much better than the movie, although the movie wasn't bad.
Brian's Hunt by Gary Paulsen
The Report Card by Andrew Clements
Rascal by Sterling North — A classic that has aged well.
Chasing Vermeer by Blue Balliett — Can't wait to read this one.
Plus, I also got some books on Norse Mythology, an anthology of classic fantasy short stories, and some books by William Glasser.
You can get the schedule for their upcoming sales (Oct 2 and Dec 4) from their website, or visit my calendar where I keep track of these things.
And here's the pic. I didn't realize until I edited the photo that there was so much reflection. Sorry!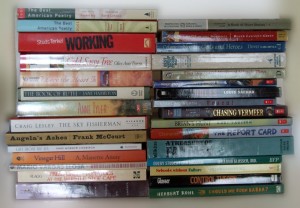 Support This Site
I don't run ads on this site, so if you found this post useful or enjoyable, please support this site by sharing this post on your favorite social media by using the buttons above. If you would like to contribute to the server costs, you can also contribute via PayPal at paypal.me/kjodle. I appreciate your support.
Except for material released under a Creative Commons license, all material is ©2022 Kenneth John Odle, All Rights Reserved
Permalink for this article:


https://bookblog.kjodle.net/2010/08/08/pdl-book-sale/