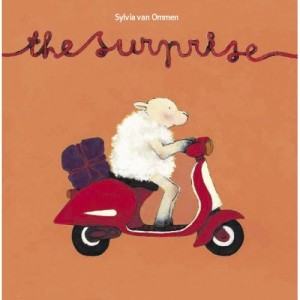 This completely wordless book presents us first with a mystery: what is Sheep doing? After taking some measurements, Sheep finally shears off all her wool, dyes it red, and takes it to Poodle, who spins it into yarn. She (or he?) then works late into the night, knitting a special surprise.
I won't ruin the ending for you, because this book is a delightful tale about generosity. The gouache illustrations are charming without being overly sweet. And Sheep rides a moped!
Although recommended for children ages 4-8, most people will enjoy this book through the first time, and there are enough details in the illustrations to make a second or third reading just as much fun.
BTW, I found this on the table sponsored by Bookbug, our local kids' bookstore, at the 33rd Youth Literature Seminar. They are a fantastic place. If you are in the Kalamazoo/Portage area, check this map and drop on by. You can always visit them online, as well.
Support This Site
I don't run ads on this site, so if you found this post useful or enjoyable, please support this site by sharing this post on your favorite social media by using the buttons above. If you would like to contribute to the server costs, you can also contribute via PayPal at paypal.me/kjodle. I appreciate your support.
Except for material released under a Creative Commons license, all material is ©2022 Kenneth John Odle, All Rights Reserved
Permalink for this article:


https://bookblog.kjodle.net/2010/11/06/the-surprise-sylvia-van-ommen/